Starting off in the real estate industry can sometimes be tough, especially if you're entering it as a beginner or with little previous experience.
But like approaching any new challenge, doing your research is a great way to prepare!
Regardless of how you prefer to do the groundwork, whether that's by watching HGTV shows, browsing Youtube videos or through doing Google searches, there's nothing better than sitting down with a good book to wrap your head around.
So, to help you in your quest to become a real estate bookworm, we've prepared a list of the top real estate investing books, organized by the type of real estate investment you're interested in.
NEED ADVICE? SPEAK WITH A SEASONED LOAN OFFICER TODAY
Best Books for Real Estate Investing Beginners
"Real Estate Investing for Beginners / How to Build a Passive Income With Real Estate Investments and Rents," by Williams W. Scotty
One of the top real estate investing for beginners books designed for anyone looking to enter the industry comes as a two-in-one set on Amazon. Rated five stars, this combo is perfect for those looking to build passive income and achieve financial freedom, but who are not quite sure where to begin.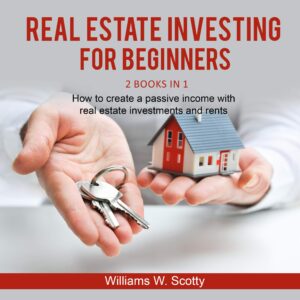 "The Beginner's Guide to Real Estate Investing," by Gary W. Eldred
One of the best books for learning real estate investing, this page-turner provides straightforward advice, wisdom, and insight from veteran investor and PhD-holder Gary W. Eldred, who has been investing in real estate for more than 25 years. Besides writing books (of which there are several), Gary also hosts an investing-focused radio show, which is broadcast nationwide, and he frequently gives presentations and seminars on the topic.
This second edition book is filled with anecdotes, tips, and advice on how to tailor your investment strategy. According to Amazon reviews, it provides a great overview of the industry for someone who's new to it. However, given that the book was published in 2008, it has been criticized for lacking up-to-date information that applies to the present-day market, which changes very quickly.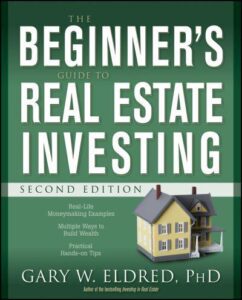 "Real Estate Investing for Beginners," by Michael Ezeanaka
If you're after a more up-to-date idea of how to tackle real estate investing as a beginner, this 2020 edition book couldn't be more up your street. "Real Estate Investing for Beginners" provides advice specifically tailored to earning passive income with Real Estate Investment Trusts (REITS), Tax Lien Certificates, Leases, Residential, and Commercial Real Estate.
The best thing about it being for beginner investors is that it will compare and contrast 10 different ways to invest in real estate based on simplicity, passivity, liquidity, scalability, and potential ROI. To help readers with this comparative process, it comes with a downloadable Real Estate Business Scorecard.
The book's author, Michael Ezeanaka, is an expert in generating passive income, monetization, and fostering an entrepreneurial mindset. Check him out!
Best Books for Flipping Houses
When it comes to fixing and flipping, there is a wealth of literature available for those who are unsure where to start when purchasing a property, renovating it, and selling it on at a profit, or simply looking for a way to scale what they're already doing in this field.
"Flipping Houses: The Best Real Estate Investing to Buying, Rehabbing and Selling Properties for Profit Even with no Money," by Gary Brandon Scott
This five-star-rated book is perfect for investors looking to enter the fix and flip industry with no money in the bank. It'll walk you through the different ways to buy property, the risks involved, cover any legal hoops you might need to jump through, and how to avoid the common pitfalls of fix and flipping.
Writing about the book's author, Gary Brandon Scott, one Amazon user left a gushing review. "He dives into how to meet others with money, how to network and get your elevator pitch down, how important it is to protect your investors' money and treat it as your own, how to structure the investment for any time of lending or equity partnerships, how to manage investor relations, and even how to exit the partnership in the best possible ways," the customer wrote.
"FLIP: How to Find, Fix, and Sell Houses for Profit," by Rick Villani and Clay Davis
Next up, we recommend the classic New York Times bestseller "FLIP" by Rick Villani and Clay Davis. Although it was published in 2007, this timeless handbook was written using a tried and tested method and will serve as your ultimate guide to fix and flipping.
Both of the authors are senior executives at America's leading real estate rehab franchise, HomeFixers, which assists real estate investors in assessing, renovating, and selling houses for a profit.
Amazon reviewers have praised its comprehensiveness, mentorship, and its easy-to-follow style which uses a flow chart.
"Dream Home: The Property Brothers' Ultimate Guide to Finding & Fixing Your Perfect House," by Jonathan and Drew Scott
Last but by no means least in the fixing and flipping category is this guide written by twin brothers and Canadian TV personalities Jonathan and Drew Scott.
Unlike other fix and flip books, this one is filled with eye-catching pictures to look at, and explains everything from the basics of buying and selling, to tips on renovating your fix and flip property.
The book is an extension of the tips the brothers share on their TV shows, providing extra insight into the hidden costs of moving, how to develop the savviest negotiating tactics, and how to find the best deals for home renovation.
Best Books for Commercial Investments
Commercial real estate investing can be an entirely different ball game to fixing and flipping, so we recommend you make the most of the resources out there and read up on the industry. Here are our recommendations for the best commercial real estate books:
"Commercial Real Estate Investing For Dummies," by Peter Conti and Peter Harris
What better explainer book to kick off your commercial real estate investing journey than one from the "for dummies" book series.
If you're after more of a light-hearted introduction to commercial real estate investing that simultaneously serves as a comprehensive handbook on how to find great properties, size up sellers, finance your investments, protect your assets, and increase your property's value, then look no further.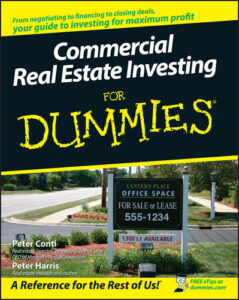 This real estate investing for dummies book's simple layout contains cheat sheets, top ten lists, "get in, get out" information, as well as icons and directions to help you navigate your way through all of the information.
"Crushing It in Apartments and Commercial Real Estate: How a Small Investor Can Make It Big," by Brian Murray
Written by a teacher looking to make passive income-turned-multi-million dollar commercial real estate investor Brian H. Murray, this book tells the story of a man who bootstrapped his way to commercial real estate success from the bottom up.
If you're from a humble background looking to get into commercial real estate investing, this book will tell you how to find and work out how to finance commercial real estate, develop a portfolio of properties without piling up excessive debt, and how to use your small investor status to your advantage.
"Commercial Real Estate Power Brokers: Interviews With the Best in the Business," by Jim Gillespie
Let's be honest, when it comes to learning about a new industry, there's nothing better than receiving advice from the best in the business, which is why this book is an excellent read for insight into the mindset of commercial real estate investors.
Although the readership is aimed at brokers (it features interviews with five of the top commercial real estate brokers in the U.S.), the book is written by commercial real estate coach Jim Gillespie, who will show you how to get into their heads and pick up some tips for your own commercial real estate ventures.
We hope you've picked up some ideas for new reading material from our list of top real estate investing books, which can all be bought from Amazon at just the click of a button.
WE LEND OFFERS A RANGE OF PROGRAMS TO SUIT EVERY TYPE OF RESIDENTIAL REAL ESTATE INVESTOR.
If you're looking for some more (free) real estate-related reading material, then check out the other entries on our blog.